From the January-February 2015 issue of News & Letters
by Htun Lin
The 2,600 mental health clinicians at Kaiser Permanente in California represented by National Union of Healthcare Workers (NUHW) carried out a week-long strike beginning Jan. 12 over the HMO's "failure to provide timely, adequate care to patients." Kaiser's mental health clinicians were adhering to their ethical responsibility to advocate for their patients by conducting a strike aimed at forcing Kaiser to uphold its contractual and ethical obligations to its patients.
More than 700 other Kaiser workers joined the psychologists, therapists and social workers represented by NUHW on the picket lines, including Northern California optical workers and Southern California medical social workers, speech pathologists, audiologists, health educators, and registered dietitians, who also report problems with inadequate staffing. Stationary Engineers Local 39 conducted a sympathy strike Jan 16-19.
NURSES EXPOSE KAISER LIES
Kaiser management saw how many nurses supported the strike by not coming to work, so they promptly settled with the 18,000 CNA nurses by meeting their demand for better staffing levels. Nurses have documented growing trends of premature hospital discharges and growing instances of denials of hospital admission, written off by management as "lack of beds." In reality there were beds, but no nurses.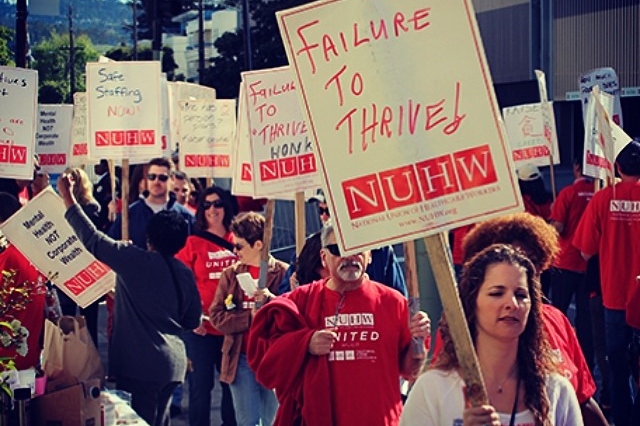 This lie was revealed by management's own response to CNA's one-day strike last year: "CNA's assertion their strike is for patient care access is really more about nursing staff," as if staffing and access to care were separate issues.
In 2013, California's Department of Managed Health Care (DMHC) fined Kaiser $4 million for systemically understaffing its psychiatry department, falsifying patients' appointment records to conceal long wait times, and providing patients with misleading information regarding the care available to them.
Spurred by whistleblower complaints from Kaiser's own mental health clinicians, an investigation by the DMHC found the HMO guilty of "serious" and "systemic" violations of California law (and industry standards) that put mental health patients at risk.
It was a situation nearly identical to the scandal that engulfed the Veterans Affairs Administration last year. The VA's top man was ousted. Kaiser executives, however, continue to be lavished with unprecedented bonuses.
PAY THE FINE, DENY THE CARE
Kaiser finally dropped its appeal and paid the DMHC's $4 million fine last September, but has failed to expand its in-house staff of mental health clinicians. Kaiser merely shifted staff away from existing patients to handle the influx of new patients from private exchanges as well as from Medicaid expansion.
The $4 million fine was treated by management as a cost of doing business. It is a fraction of the take-home pay of top executives at the nation's largest HMO. It is a drop in the bucket compared to its profit last year of $3 billion (up 40% from the previous year after scooping up 420,000 new enrollees from the Affordable Care Act) and compared to the $21.7 billion it holds in reserves.
Under California law, Kaiser is responsible for expanding its staff of providers in accordance with membership growth. Mental health workers at Kaiser facilities report that patients frequently endure waits of between four and twelve weeks for a return appointment, making effective, ongoing treatment nearly impossible. Patients and their families have filed four class-action lawsuits against Kaiser for violations contributing to tragic outcomes, including suicides.
BLOOD ON KAISER'S HANDS
"For patients suffering from depression, anxiety, and other debilitating mental conditions, these delays can be insurmountable obstacles, sometimes leading to tragic outcomes," said Clement Papazian, a clinical social worker at Kaiser in Oakland and president of NUHW's Northern California chapter of mental health clinicians. "We don't want to see patients being ignored. Kaiser's actions are doing real harm. Even suicides have been linked to Kaiser's delays and denial of care."
Workers taking to the streets and withholding our labor is a way to reclaim its meaning, when those charged with the authority to serve and protect are doing neither.
It takes the labor dimension to view life through the lens of humanity in its fullest capacity. It takes workers in self-conscious activity to comprehend the meaning of our own labor. Only then can society practice the concept of "Every Life Matters."